On to the next Las Vegas Spa and Fitness Center with my Diamond Card. After the pleasant experience last week at Harrah's, I was hoping to be even more surprised. Well, in most ways, what I expected out of the slightly more stylish Paris Las Vegas was barely satisfied and in other ways, I was more impressed with Harrah's.
Fitness Center in a box!
Ok, so the roughest criticism I'm going to have is first. And maybe this is just a personal preference, but I hate working out in a room with no windows and no sunlight. This is Las Vegas! We need sun!
That said, there was plenty of space in the room and plenty of treadmills so it didn't feel cramped at all.
And Lemon iced water. Ok, this is how a Las Vegas Spa is supposed to serve its guests. And apples too? That's a new and welcomed amenity. I'm a chocolate bar guy myself though. I helped myself to some of the mints instead.
Free Weights and Resistance machines
There was a complete free weight section with squat machine and bench press machine. The weight of the dumbbells went up to 65 pounds which is more than enough. Plenty of benches around as well, I doubt it ever gets packed enough for them all to be in use.
It seemed like every muscle group was covered by resistance machines as well.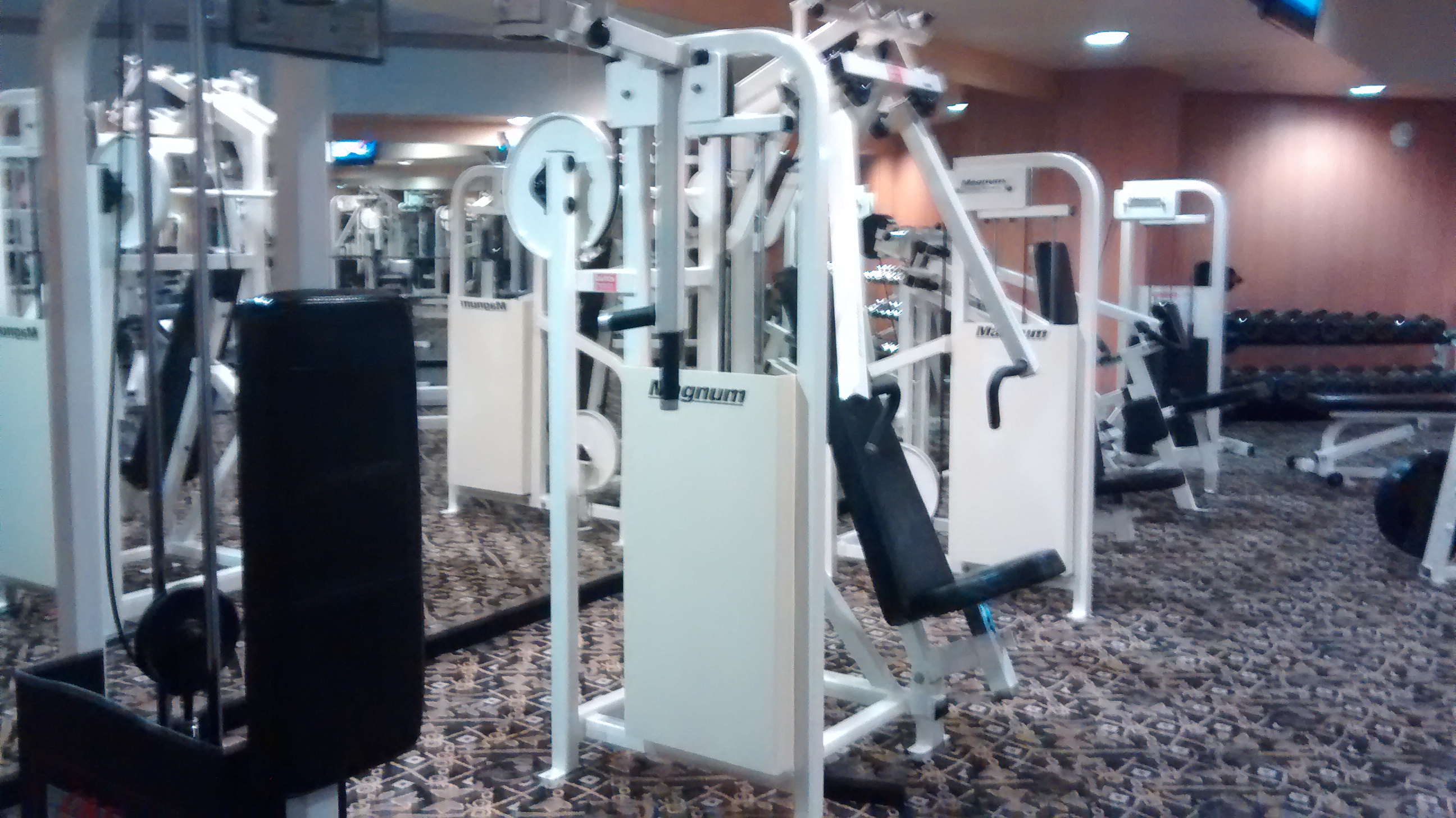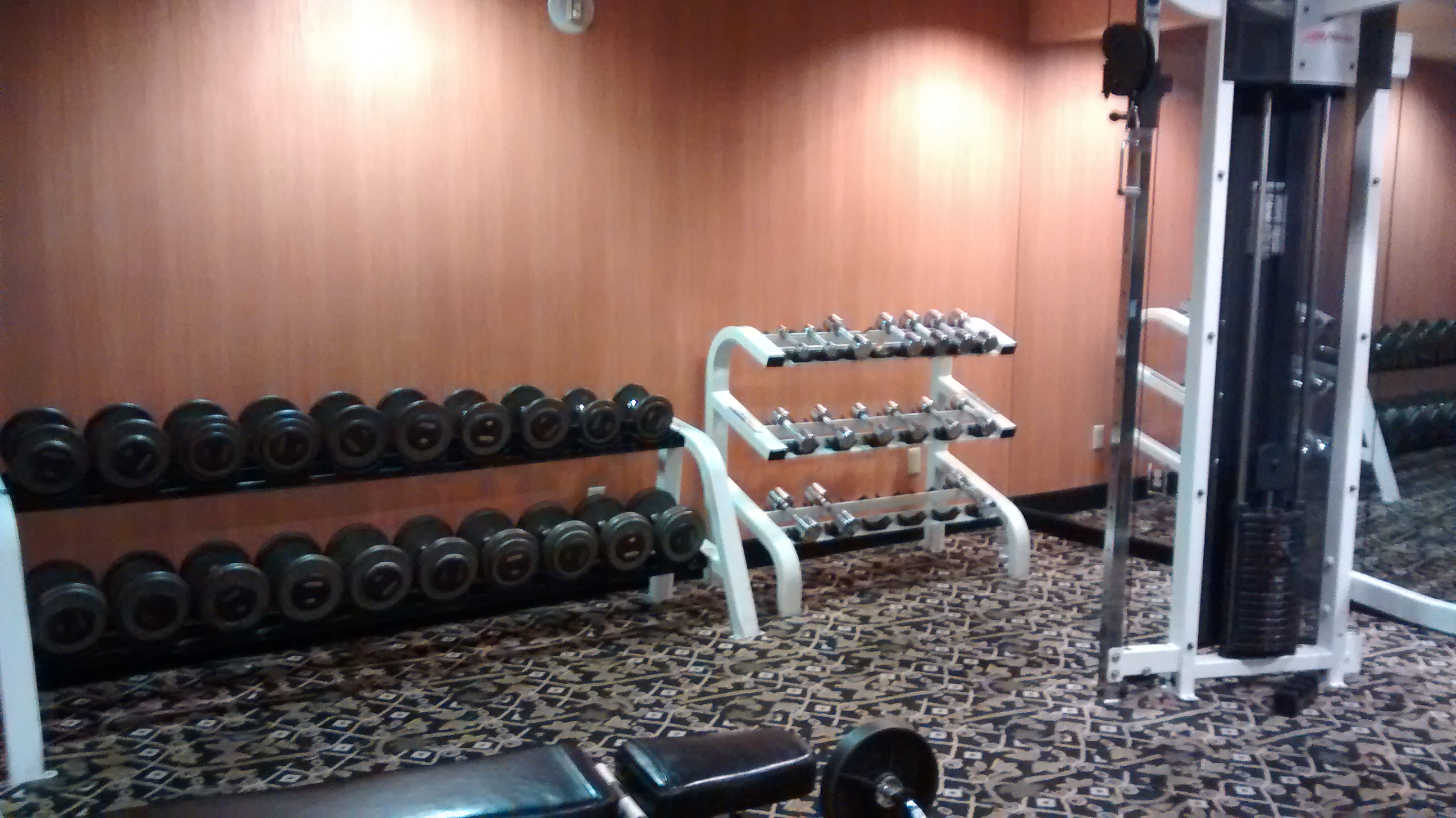 Cardio
I wasn't too impressed with the cardio machines. They seemed very standard and even showing their age. I tried the Stairmaster at the start of my work out and got annoyed with the squeaking so I switched to the elliptical, which was nice and smooth.
As for the treadmills, they were the regular Life Fitness machines we see everywhere lined up in front of a great big mirror, and some TVs hanging from the ceiling. As much as I like looking at myself in a mirror, I'd much rather be peering down at a Las Vegas pool.
Spa area (Men's side)
The men's spa area was nice and being greeted by a friendly bathroom attendant to offer a locker and anything else was what I was expecting… ahh the Las Vegas resort experience! In the locker, I found a robe, but I had to ask for slippers (what's up with that?).
The showers had weak water pressure and the area seemed a little inconvenient. While each shower was spacious and fully private, there was no dry area that was private (only one door with no curtain or such inside). You were either in your shower or out drying off with everyone else. It was mostly annoying because I had to choose between leaving my phone outside where it could be stolen or putting it back in the locker, which maybe I should have done anyway. I don't know, I'm not a leave the phone behind kind of person.
The dry sauna, steam room, and Jacuzzi were all lumped together in the same room. It seemed a little distasteful but was a nice area. The Jacuzzi was big enough to fit a basketball team so I doubt it ever feels too crowded. There was also a small cold Jacuzzi, which I'll never really understand.
Paris fitness center summary
The lack of windows makes me want to give this fitness center a big thumbs down, but I suppose that has mostly to do with taste. If you could care less about the windows, you would probably feel really comfortable here.
It was a nice spacious and elegant Spa and you be hard pressed to not be able to complete your workout here.