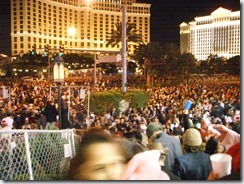 This is what the Las Vegas strip will look like minutes before the New Year.  At midnight, you will be thrilled by one of the best orchestrated fireworks shows in the world.  Multiple hotels will launch fireworks from their rooftops in a stunning display only Las Vegas can manage.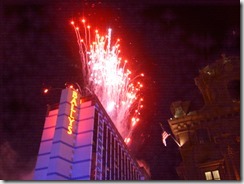 A good spot for seeing multiple displays is near the bend in the strip close to the Mirage and Harrahs.  From this point, with a little luck, you can see displays south to Bally's and north to the Stratosphere.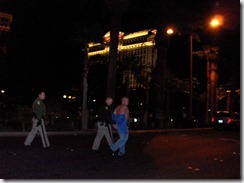 Fear not for your safety in Las Vegas.  The Las Vegas police force is one of the best equipped and staffed in the country.  They routinely deal with large crowds and are out in force this night.  So have fun and stay well-mannered!