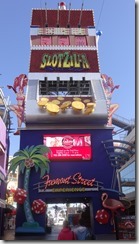 Downtown Las Vegas offers a little bit for the thrill seeker in you when you are finished at the crap table!
The SlotZilla offers two ziplines that soar high above the crowds on the Fremont Street Experience from the Blvd on one end all the way to the Golden Gate Hotel at the other end.
The Zoomline is $40 and launches from 10 stories high and flyers are launched in "superhero-style''" for the best view of the action below.
The cheaper zipline is $20 and runs half the length.
While we would recommend to experience it first hand, here is a youtube video from the Slotzilla official site to get your heart racing.
[DISPLAY_ACURAX_ICONS]